Charlie Tanner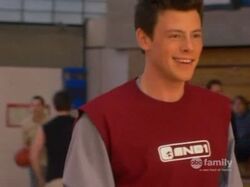 Charlie Tanner
is the boyfriend of
Amanda
during
Season 1
. He's played by Cory Montieth.
Season 1
Charlie is first appears at the end of the epsiode Diving In, where he's introduced as Amanda's long-term boyfriend. Kyle initially dislikes him because of his feelings for Amanda, but eventually comes to accept their relationship. He and Kyle also when in the episode Kyle Got Game, where they play for the school's basketball team. Towards the end of the first season, Kyle learns that Charlie is cheating on Amanda with Lori's best friend Hillary. 
Season 2
When Kyle returns to live with the Trager family, he finds out that Charlie was still dating Amanda. In The List is Life, Charlie arranges to sleep with a girl during the school's bonfire. While waiting for him, the girl becomes trapped in a building after it accidentally sets on fire. Charlie refuses to go inside out of fear of getting hurt, so Kyle saves her instead. At the end of the episode, an annual list names Charlie the school's "biggest slut". Charlie immediately claims to Amanda that it's a lie, but Hillary tells her the truth. Amanda storms out of the cafeteria. Ending their relationship.
Charlie quickly got over Amanda and attempted to hit on Jessi, but she ignored him for Declan. He attended the alterna-dance, but was clearly upset at seeing Amanda with Kyle. He got drunk and began to making gay slurs. His only remaining friend Declan subsequently left him.
Appearances
Season 1
Season 2
2x01
2x02
2x03
2x04
2x05
2x06
2x07
2x08
2x09
2x10
2x11
2x12
2x13
2x14
2x15
2x16
2x17
2x18
2x19
2x20
2x21
2x22
2x23