Ashleigh Redmond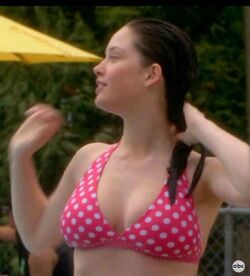 Josh sees Ashleigh Redmond at the pool and wants to take her to Jeff Preston's party.

Season 1
Josh begs Lori to go into the pool locker room and get the name and number of the gorgeous (and busty) girl who gives him a smile at the pool. Lori doesn't believe such a beautiful girl would be interested in Josh. Because Josh arranges lessons for Kyle at the pool, allowing Lori to spend time with Declan, she does get Ashleigh's name and phone number for Josh.

Josh tries to call, but keeps hanging up from nervousness. Eventually, Ashleigh speaks first, seeing his caller ID, and Josh manages to stay on the line for them to agree to meet at Jeff Preston's party for those going to Beachwood High School.

It isn't long before Ashleigh convices Josh to join her in the Jacuzzi, something she mentions Sister Mary Lourdes would not approve. Their fun quickly ends when Mr. and Mrs. Preston discover them.

At the end of Season 1, Kyle is going to attend the Catholic confirmation ceremony for Amanda at Holy Family church. When Josh learns that Ashleigh sings in the choir, he wants to go too. When he keeps talking about how hot she is, Kyle has to tell him to be quiet.

Appearances
Season 1
| | | | | |
| --- | --- | --- | --- | --- |
| 1x01 | 1x02 | 1x03 | 1x04 | 1x05 |
| 1x06 | 1x07 | 1x08 | 1x09 | 1x10 |